Stop the

smudging!

Wear any shoe after

20 MINUTES!
Welcome To
PediWraps.co

Pedi Wraps™ provide salons and nail techs a low cost solution for protecting their clients' pedicures against smudging, chipping, cracking, and peeling.
Pedicures take hours to dry. Before the drying process is complete, nail polish and top coats are vulnerable to friction from shoes, socks, and bed sheets. Pedi Wraps™ envelope toes in a comfortable and protective pocket. When combined with a light coating of cuticle oil, Pedi Wraps™ prevent and minimize the risk of damage to freshly applied nail polish. Pedi Wraps™ permit your client to put her shoes on after a pedicure, without concern her polish will be ruined. Pedi Wraps™ are particularly beneficial during the winter months when sandals cannot be worn out of your salon.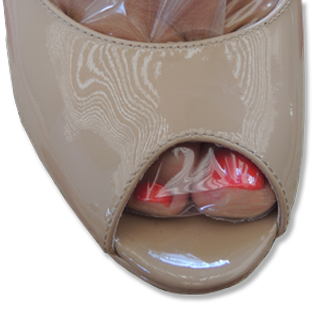 Client
Testimonials
"I think it's great that I can get a pedicure on my lunch break, then 20 minutes later slip on my closed toe shoes, without having to worry if I ruined my pedicure"

"I love how versatile they are, I can go to the gym, work, walk downtown, or even take a nap without worrying about smudging or ruining my expensive pedicure "